Abdullah Wears Suites Worth Thousands of US Dollars on the Cost of Nation's Blood
Category: Articles
Written by Hila Nuri
Published: Saturday, 16 July 2016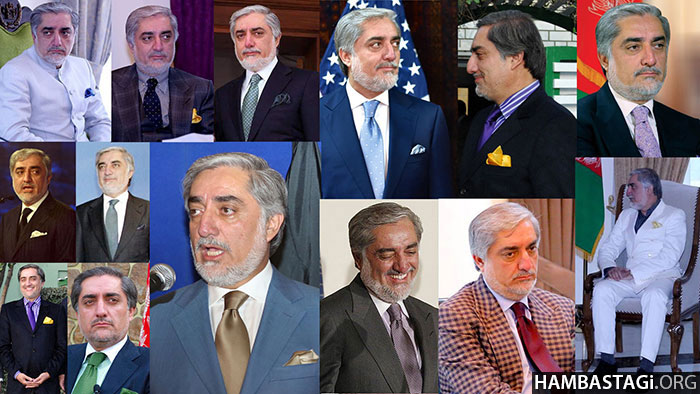 The chic clothing of Abdullah, alike showbiz celebrities, and his high expenditure, always were the hot discussion topics of people and social network websites, and one of the reasons for the people to hate him. However, few people may know that he, similar to Arab sheikh and Hollywood billionaires, is a costumer of the most expensive boutiques in the world.
Recently, Etilaat Roz Newspaper has given a reliable report on the topic, revealing the engraving of Abdullah's name with gold-pated ink in world most expensive boutique as its regular costumer. This has been also acknowledged by Spanish site, notiver.com.mx, and Tajikistani's Community in Canada.
Etilaat Roz reports:
Gold engraved name of Abdullah in the House of Bijan. (Photo courtesy: Etilaat Roz Newspaper)
"The House of Bijan, in pride of its prominent costumers, engraves their names on its outside window screen with gold-plated ink. The names of Al-walid bin Talal bin Abdul Aziz, George W. Bush, Barak Obama, Vladimir Putin, Tony Bliar, John Kerry, Juan Carlos, and Dr. Abdullah Abdullah, previous foreign minister of Afghanistan, can be read."
Bijan has put on display the photos of some of his regular costumers. (Photo courtesy: Etilaat Roz Newspaper)
House of Bijan, owned by an Iranian American, Bijan Pakzad, is the most expensive boutique in Beverly Hills, Los Angeles. He designs men suits and tuxedos based on the idea of "great men can be recognized from their cloths". The progressive Iranian refer him as the dirty face of capitalism. He, besides dressing the cinema and sports celebrities, has tried to hide the crimes of most heinous politicians with his extra expensive suits. His store is open for public and costumers can visit by prior appointment. For those who can't visit his boutique, Bijan would visit them personally and never designs the same for two costumers. Accroding to Bijan, his custom-made suits cost US$ 25,000 and tie for US$ 1,200. He claims that his costumers regularly visit his store and on average spend US$ 500,000 per visit.
The presidential palace claims the registration of 90% of government officials as its achievement. Abdullah, ridiculously has mentioned his assets on US$ 160,000. Registration of government officials' assets is not enough, the people of Afghanistan want to know, how they got so rich, while during Jihad years they didn't owned a lame donkey.
In a country, where a mother has to sell one her children to save the rest; bothers of ex-president Hamid Karzai and late ex-minister Fahim Qasim buy luxury villas in man-made palm islands of Dubai, worth of 1.5 to 10 million US Dollar, from the stolen money of Kabul Bank; son of late ex-president Burhanuddin Rabbani and ex-leader of the most brutal fundamentalist party, Jamiat-e-Islami, owns luxury hotel, Hital Hotal in Kabul city's diplomatic enclave, Wazir Akbar Khan; Karim Khalili, ex-vice president and one of the leaders of Shi'a fundamentalist party, Hezb-e-Wahdat, owns residential mini-city and five star hotel in Bamyan, where people are still living in the caves; and tens other businesses owned by warlords and powerful men, even though Abdullah tries to hide his appearance in expensive suits, the truth can't be hidden and the western media named him, Messenger of Death.
For trial of Abdullah, it is not necessary to list the his crimes and felonies, just putting him along with richest men of the world his expensive shopping, proves his betrayal to people and must be prosecuted. If he had some feeling of the people, he would have consider it a shame to be the CEO of the poorest country and embezzle the looted and easy-come money.