Protestors denounce communist, Taliban regimes
Category: Articles
Written by Pajhwok Afghan News
Published: Sunday, 04 May 2014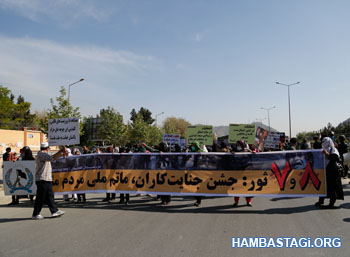 KABUL (Pajhwok): The Afghanistan Solidarity Party (ASP) on Friday denounced the communist and Taliban regimes as well as the mujahideen for the country's destruction.
The party staged a rally, attended by a thousand people, in front of the Russian Embassy in Kabul, against the 1978 coup and the subsequent Soviet occupation of the country.
The People's Democratic Party of Afghanistan came to power as a result of the coup that resulted in the invasion of Afghanistan by the Soviet Union, which faced fierce resistance from the people.
Years of jihad and great sacrifice eventually led to the expulsion of the Soviet forces from Afghanistan in February 1989. Three years later, Afghan political parties agreed on the Peshawar Accords which established the Islamic State of Afghanistan and appointed an interim government.
The Taliban, who had initially emerged as a new force in the southern city of Kandahar, took power in 1996 and established the Islamic Emirate of Afghanistan. After the fall of Najibullah's government, the civil war between mujahedin factions and some generals ousted his regime.
Eng. Hafizullah, an ASP leader who organised the rally, called the seventh and eighth of Saur dark days in Afghanistan's history. "These events triggered a trail of murder and mayhem in our homeland."
About the jihad against Soviet forces, he said: "People were right in rising against the Russians and they eventually liberated the country. But some leaders traded on people's sacrifice and stashed millions of dollars in Dubai. They have purchased apartments and hundreds of thousands of acres of land outside the country."
According to him, a number of mujahideen leaders, without representing the masses, had come to power, causing the destruction of Kabul. "Children of martyrs are living in abject poverty, but others are raking in wealth in the name of jihad."
He demanded the trial of those who destroyed Kabul and killed thousands of people. One of the rally participants, Naheed, echoed this demand, saying the perpetrators should be prosecuted.