Kabul a scene of horror and thuggery again
Category: Reports
Written by Naweed Nabdil
Published: Monday, 14 September 2015
Every year on 9th September, the death anniversary of Massoud, the people of Kabul experience barbarism of the factional kind (reference to factional infighting during the 1992-1996 civil war and the commission of horrendous crimes during that time). A group of reckless men belonging to Shorae Nizar roamed the whole city wildly, spreading terror, and causing disturbance and concern among the residents of Kabul. Many of them had arms and fired shots into the air without facing any hindrance from security forces. These groups come out on the streets for mourning Massoud but their actions resemble a celebration.
A child wounded by the shots fired by the Shorae Nezar men.
According to reports, there were clashes between the police and the caravan of thugs which injured several people. Constant aerial firing in the areas of Qalay Fatehullah, Sherpur, Seelo, Labe Jar in Khair Khana, and others, spread fear and concern among the people.
After noon today, a group of hooligans of Shorae Nizar got into an altercation with the police and intelligence forces in Hoodkhel area of eastern Kabul. As a result, a policeman was killed and two residents of the area were injured. In a similar incident at evening today, two residents and one intelligence officer were injured in the same area. The thugs wanted to enter the Hoodkhel area using their cars covered in Massoud's photos and their guns.
These ridiculous shows of thuggery are organized by the Ahmad Shah Massoud Foundation and factional commanders belonging to Jamiate Islami to display their power. But the people of Kabul are so fed with such violence that these displays of power only makes the public despise these supporters of Massoud more. Last year, this day came amid the controversies of the elections and resulted in so much terror, disturbance, death, and injury that even Wali Massoud and several other leaders of Shorae Nizar were forced to condemn their thugs and save whatever was left of their face.
A national hero is someone who has a place in the hearts of the people of a country, and such forced actions and money spending is not required to make that nation accept that person as a hero.
Shorae Nezar's men occupy important posts in the government and in many areas the police and security forces joined these caravans.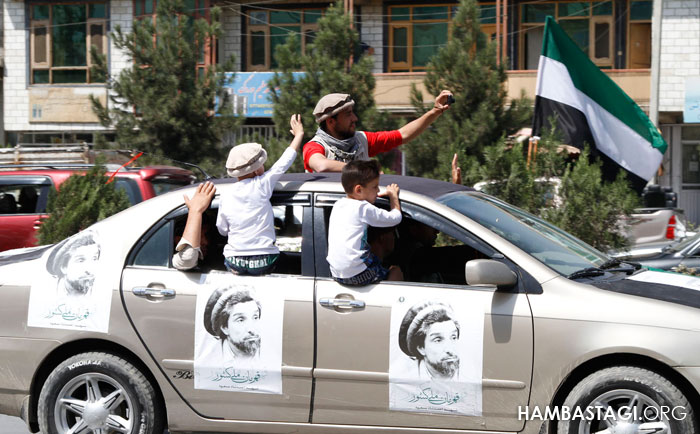 The future of these children will be a dark one.
A view of Shura-e-Nizar culture.